A True Green Miami Hotel
Since 2010 our "Inspired by Nature" Program is our Environmental Action Plan which has guided us in our endeavor to help preserve the environment and care for the world we live in. We continually strive to improve our operations and increase our community involvement to become more sustainable and continue setting an example in our industry.

These are some of our accomplishments so far, for a full list of initiatives, please click here.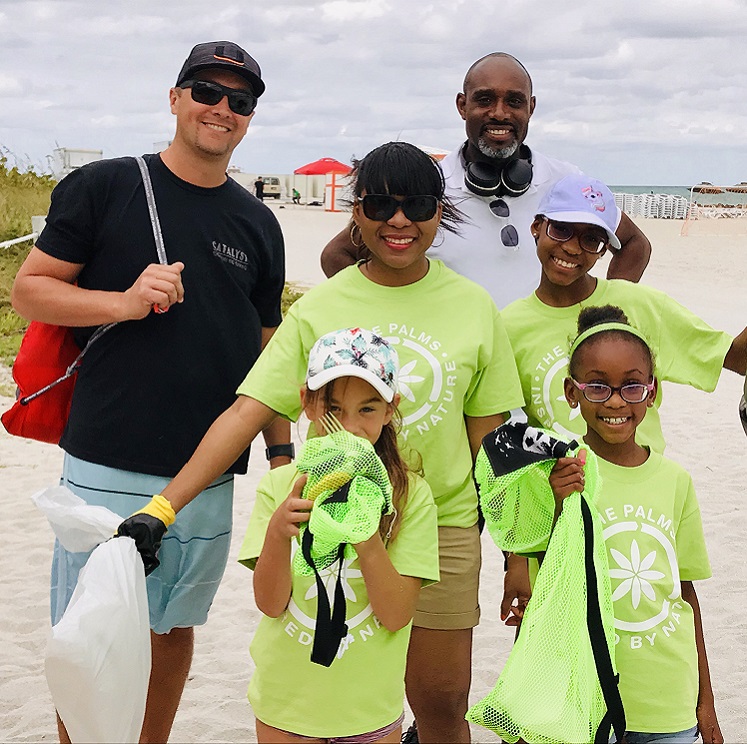 Beach Cleanup
Are taking care of the environment and being more involved in the community some of your personal priorities? Then join our volunteers at the beach for a three-hour event, 9 am to noon, to help make our world a cleaner place and protect our local wildlife!
UPCOMING BEACH CLEANUPS:
Saturday, December 11, 2021
Saturday, February 19, 2022
Saturday, April 23, 2022
Saturday, September 17, 2022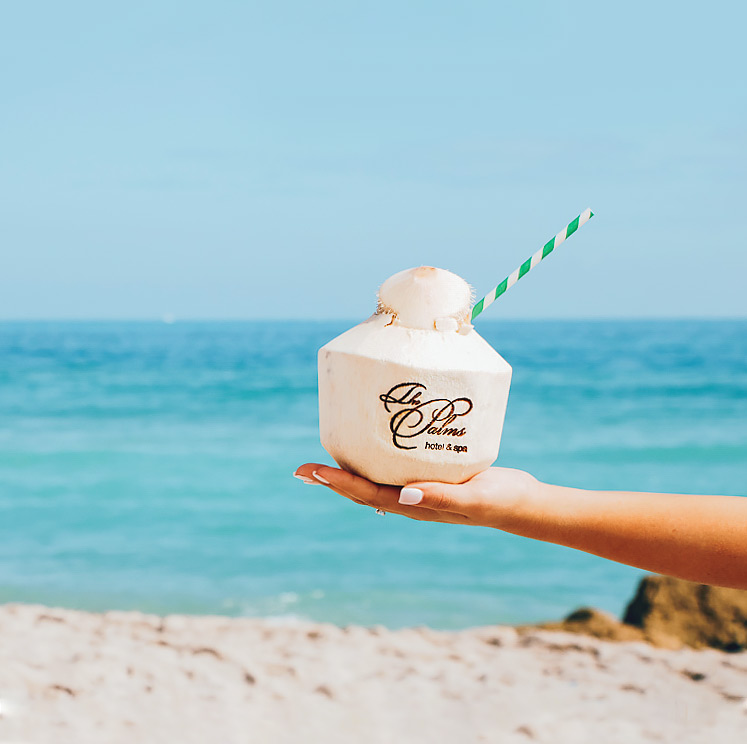 100% Disposable Plastic Free
It is our goal to operate with absolutely no use of disposable plastics by the end of 2021 (COVID-19 health & safety guidelines permitting). So far, we have added in-room aluminum and cardboard water bottles, along with aluminum water bottles in meeting rooms. We have implemented eco-friendly take-away containers made of bagasse, biodegradable drinking straws made from agave fiber, and use corn-starch cutlery at the pool & beach. We have implemented refillable, eco-friendly BeeKind in-room shower amenities to each guest bathroom, as well as offering cloth in-room dry-cleaning bags. We will be contracting with a dry-cleaning service that prioritizes sustainability practices and eliminate plastic garment bags. Future initiatives also include eliminating plastic key cards. Currently our plastic key cards are sanitized and recycled.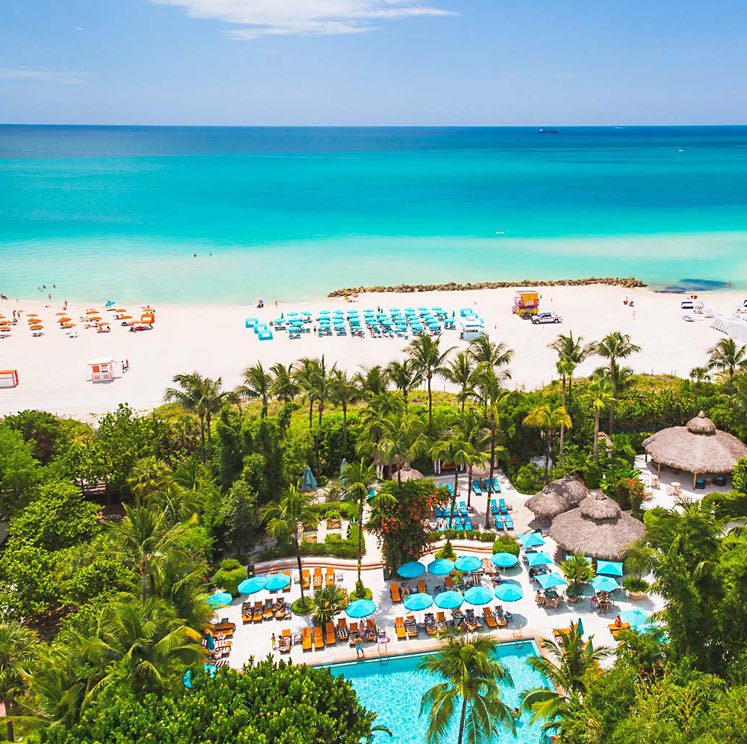 Conserving
Natural Resources
At The Palms Hotel & Spa, we are committed to the conservation of natural resources wherever possible. Our bathrooms are installed with low flow showers and sinks, in addition to eco-friendly toilets. Our quick-dry bathrobes, linen/towel re-use program, and guest in-room program allow for more conservation of materials, while LED lighting and UV windows throughout the hotel allow for more environmentally friendly use of electricity.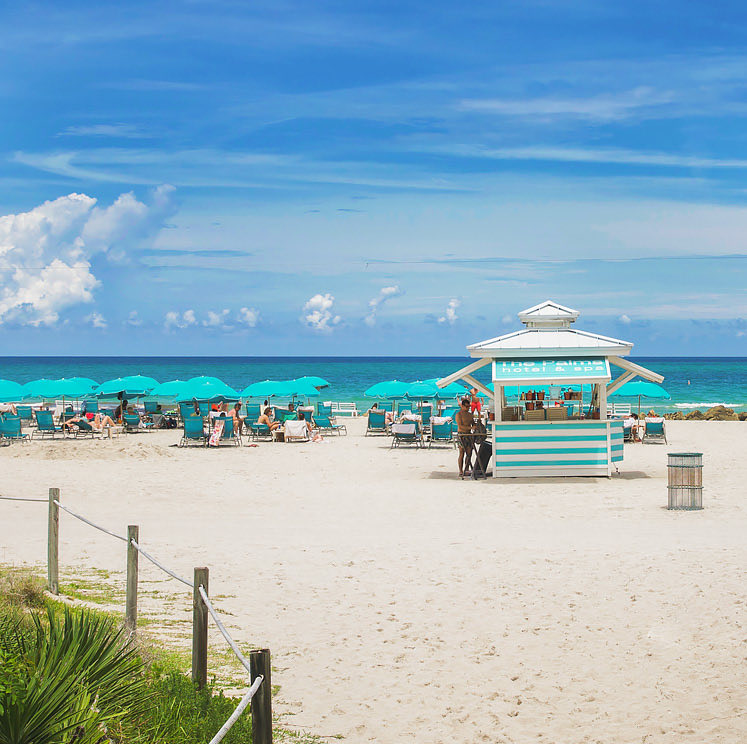 Raising
Environmental
Awareness
in our
Associates, Guests, and
Community
We aim to educate and inspire all people in our community in regards to the environment. For this reason, The Palms Hotel & Spa has its own line-level green team on staff to exercise the best practices in sustainability. Training in recycling and green initiatives is implemented by our team, and local beach clean-ups led by our volunteers take place every quarter.
Water Quality Testing
The hotel collects water samples from the ocean right behind the hotel every Thursday as part of Surfrider Miami's Blue Water Task Force Program. Our sample and that of the other 20 locations in the program currently are analyzed and published every Friday evening via the Foundation's website and their Instagram page.
Fill A Bucket
Clean up for the cause!
Feel free to give back to the world we live in any time you're at The Palms with a mini beach-cleanup of your own! Join us for our 'Fill A Bucket' program and help us care for the world we live in. Pick up a bucket from our beach hut, collect trash and debris along our glittering shore, dispose the trash, return the bucket and feel good about what you've done for Mother Earth. Together, we can make this one Earth we have a cleaner and greener place!
Our Partners
The Surfrider Foundation dedicates itself to the protection of the world's oceans through a network of worldwide activists. Founded in 1997, the Miami chapter of this organization is devoted to keeping local beaches and oceans clean.

Founded in 1989, Slow Food is a non-profit, member-supported organization supporting a grassroots movement to counter fast food and unsound practices in the industry. The association focuses on local sourcing and sustainability.
Pirani produces reusable insulated tumbler cups to reduce the use of harmful materials, like single-use plastics. They aim to bring reliable and innovative products to the market that encourage people to live more sustainably.

Kind Traveler is a hotel booking platform that enables travelers to positively impact destinations they visit. The organization offers guests over 50 charities to support, a simple direct booking process, and a curated selection of hotels that care.
A non-profit organization whose mission is to empower individuals, especially youth, to lead in the response to climate change and other environmental challenges facing South Florida since 2006.
Ocean Conservancy works to protect the world's oceans from its greatest threats, including pollution, overfishing, and ocean acidification. Through science-based solutions, Ocean Conservancy supports the health of the oceans, and the wildlife within them.