What is it?
The Inspired by Nature Program is our commitment to ENVIRONMENTAL SUSTAINABILITY at The Palms Hotel & Spa. It sets the standards and provides the guidelines to make our operation as eco-friendly as possible to minimize our impact on the environment, both locally and globally. 
YOU PLAY AN INTEGRAL PART IN THE PROGRAM!
View Inspired By Nature Program
View Sustainability Management Plan
PLEASE TAKE PART IN OUR EFFORTS TO:
Refuse
STYROFOAM 

PLASTIC STRAWS
SINGLE-USE PLASTIC BAGS, BOTTLES, CONTAINERS & UTENSILS
Reduce

USE WATER
Limit the amount of water you use. Don't leave the faucet running!
Enforce our in-room towel and linen reuse programs. Each towel reused saves 3 gallons and each linen reused saves 4 gallons of water!
If there is a leaky faucet or runny toilet in the hotel, let your supervisor know.
USE OF ENERGY
Keep AC temperature in offices at 75F
Keep AC temperature in occupied guest rooms at the temperature specified by the guest
Keep AC temperature in unoccupied guest rooms at 75F
Keep AC in meeting rooms at 75F for unoccupied rooms. Cool down only before events. Large rooms no lower than 70F, small rooms no lower than 72F.
Switch off lights, fans, radios and screens when leaving offices, guest or meeting rooms.
DO NOT SWITCH OFF COMPUTERS OR PRINTERS.

USE OF PLASTIC
Avoid using single-use plastic containers (such as bottled water).
Avoid single-use coffee and drinks cups. Bring your own cup.
Say no to single-use plastic cutlery!
Avoid purchasing supplies wrapped in excess plastic or Styrofoam.
USE OF PAPER
Think twice before printing! Consider if printing really is necessary.
Print double-sided – unless one-sided printing is necessary.
Reuse paper for note taking.
GREENHOUSE GAS EMISSIONS
Consider public transportation, electric scooters or biking if you live nearby. 
Consider car pooling or purchasing an electric car if you are commuting by car.
Buy locally produced food, drinks, clothing and gifts.
Reuse
Aim to reduce the amount of plastic you use and the amount of trash you produce. Opt for reusable containers, bags, cups, straws and mugs rather than disposable ones.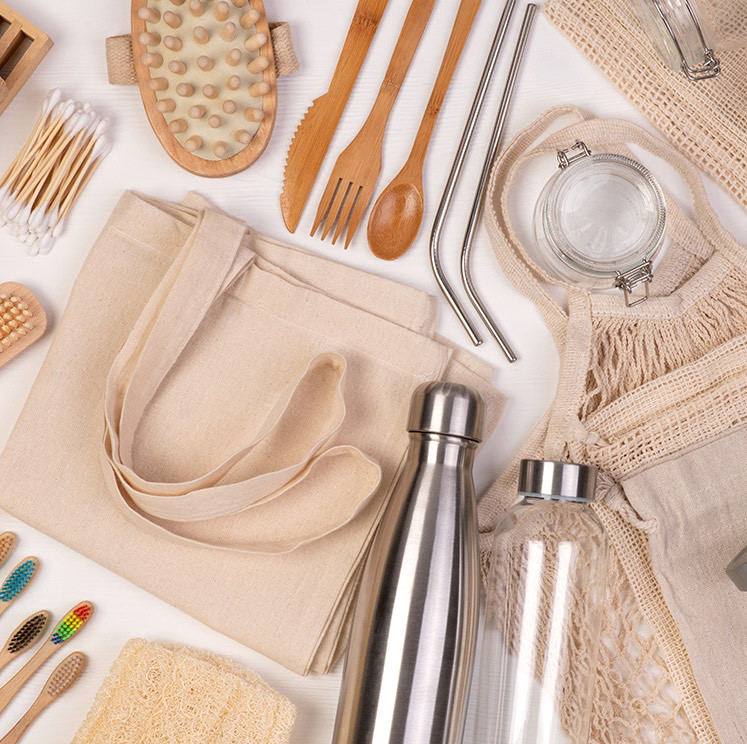 Recycle
Use designated recycling bins for:
Cans
Glass
Paper (including paper water cups)
Plastic (bottles and containers)
Cardboard (including juice & milk containers)
Note: Only place CLEAN items into recycling containers
Recycle Plastic Bags
Use green plastic bag recycling bins for all kinds of plastic wrapping including:
All plastic bags including dry cleaning and linen bags
Plastic packaging (like that covering toilet paper, napkins and paper towels)
Overwrap from shipping cases and other and plastic wrap
Ziploc and other re-sealable bags (without the zipper)
Bread and produce bags
Cereal bags (not the ones that come in a box)
Newspaper sleeves, ice bags, salt bags
Note:
Only place CLEAN items into recycling containers
Do Not Recycle
Trash
Food
Styrofoam
Disposable cutlery (plastic, cornstarch, wood)
Bio plastics
Compostable disposables
Disposable coffee cups, drink cups, or containers that are not clean
Drop Off:
At Engineering: Used Batteries and broken lightbulbs.
At Housekeeping: Metal dry cleaning hangers.
At IT: Used and broken electronics.
At Receiving: Used Toner cartridges.
Dispose
Dispose of anything that cannot be reused or recycled into trash cans. Don't litter!

Remember: all litter on our streets and sidewalks will end up in the bay! This includes cigarette butts.
Do Your Part!
Pick up trash when you go to the beach or park.
Participate at a community or hotel beach clean-up.
Get involved in other social initiatives to help the community.
Email us with any suggestions at green@thepalmshotel.com